Click on picture to see image gallery of our customers.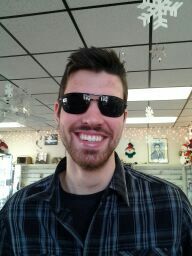 Testimonials
by Laur
04/25/2011
I would never go anywhere else for the needs of my precious vision. Friendly and professional as well as a vast frame selection. The owner will do everything in her power to make sure your glasses are of the best quality and price.
by dsher63
06/20/2010
I went to Bay Street Optical to get new glasses. I was helped right away. I wanted Bifocals in a very small pair of glasses. It was also my first bifocal, but I was told she could do it and she did(--not easy I'm sure). I got them back in just a few days. I have had them a number of months now and I LOVE them! They look great. The girl that helped me was very nice. She (I forgot her name)makes the glasses and she seemed very confident-I like that. I am very satisfied. This is my second year, and I will keep coming back. that's for sure. The owner is very nice and is always very helpful as well. I didn't deal with her this time, but I did last year. She runs a very quaint little store--I love it. Give them a try, you wont be sorry.
by autma
02/19/2010
Hands down, the best place to go for vision needs. The staff is wonderful, helpful, knowledgable, and will make sure you are a happy and satisfied customer. I've known the owner for many years and they always provide genuinely friendly service. I'd recommend Bay Street Optical to everyone I know.
by beandog
09/24/2009
Bay street optical is a great place to go for vision problems!!!! The owner is VERY kind and knows what she is doing. It has been in business for quite a few years now and I would recommend it to everyone!!!
Treasure Coast Newspapers Sunday Jan 17,2010
Honesty is at work at Bay Street Optical
On Jan.5, my wife and I went to Bay Street Optical in Sebastian with the intention of getting new prescription lenses. My wife was having problems with her fairly new glasses from another optician. Ms. Brady at Bay Street asked to let her check my wife's lenses to see if they met the prescription's specs. After time spent checking the lenses, Ms. Brady said they were as prescribed. Ms. Brady then made a few adjustments to my wife's frames to straighten them properly. My wife could immediately see better. This lady could have easily said that the lenses were not correct and that we would need new ones. All her good work was done with no charge to us. This is an honest optician at work. We thank you Ms. Brady.
Peg and Jerry Freitas, Sebastian